[split_line_heading animation_type="default"]
Contact our pool company for a free estimate.
Mention our ad and receive $25 off your second month's pool maintenance cleaning service!
[/split_line_heading][nectar_btn size="jumbo" button_style="see-through-2″ color_override="#ffffff" hover_color_override="#ffffff" hover_text_color_override="#000000″ icon_family="none" url="/pool-cleaning-service-quote/" text="Get Quote" margin_top="25″ css_animation="slideInUp" margin_bottom="85″]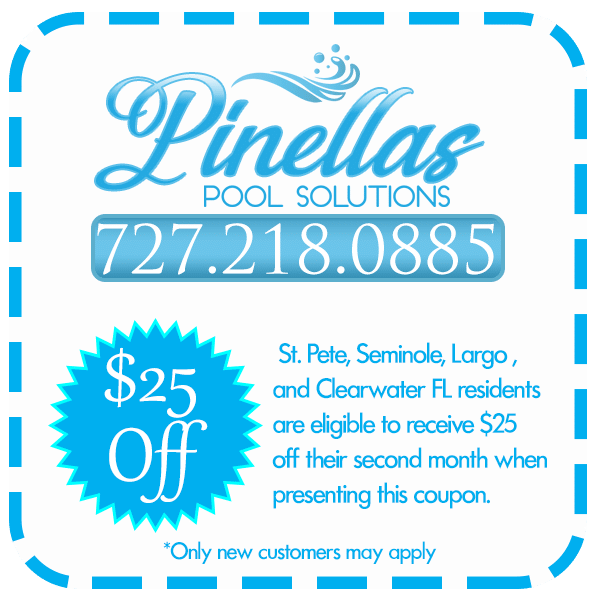 At Pinellas Pool Solutions you will see your pool expert from week to week during regular maintenance visits. This professional becomes familiar with your particular pool equipment issues and will keep a watchful eye on your pool's chemical and filtration needs.
[nectar_cascading_images image_1_url="91″ image_1_offset_x_sign="+" image_1_offset_x="0%" image_1_offset_y_sign="+" image_1_offset_y="0%" image_1_rotate_sign="+" image_1_rotate="2.5″ image_1_scale="1″ image_1_animation="Fade In" image_1_box_shadow="none" image_1_padding="auto" image_1_max_width_desktop="100%" image_1_max_width_mobile="100%" image_1_image_width_mobile="default" image_2_url="89″ image_2_offset_x_sign="-" image_2_offset_x="40%" image_2_offset_y_sign="+" image_2_offset_y="75%" image_2_rotate_sign="-" image_2_rotate="5″ image_2_scale="1″ image_2_animation="Fade In" image_2_box_shadow="none" image_2_padding="auto" image_2_max_width_desktop="100%" image_2_max_width_mobile="100%" image_2_image_width_mobile="default" image_3_url="126″ image_3_offset_x_sign="+" image_3_offset_x="40%" image_3_offset_y_sign="+" image_3_offset_y="70%" image_3_rotate_sign="+" image_3_rotate="5″ image_3_scale="1″ image_3_animation="Fade In" image_3_box_shadow="none" image_3_padding="auto" image_3_max_width_desktop="100%" image_3_max_width_mobile="100%" image_3_image_width_mobile="default" image_4_offset_x_sign="+" image_4_offset_x="0%" image_4_offset_y_sign="+" image_4_offset_y="0%" image_4_rotate_sign="+" image_4_rotate="none" image_4_scale="1″ image_4_animation="Fade In" image_4_box_shadow="none" image_4_padding="auto" image_4_max_width_desktop="100%" image_4_max_width_mobile="100%" image_4_image_width_mobile="default" border_radius="none" image_loading="default"]
[nectar_btn size="jumbo" button_style="see-through-2″ color_override="#ffffff" hover_color_override="#ffffff" hover_text_color_override="#000000″ icon_family="none" url="/pool-cleaning-service-quote/" text="Get Quote"]